🏆 Top & Bottom Finder (Our #1 Indicator)
Checkout Link: tinyurl.com/TBFinder
🎉
Get $400 Off! - Everyone who buys the Bundle Pack below will immediately get a $400 off coupon code to be used towards the Top & Bottom Finder!
✅ Lifetime Access  ✅ One-Time Payment  ✅ Full Dedicated Support
---
🛍️ BUNDLE & SAVE! - (82% OFF!)
Checkout Link: tinyurl.com/TCBundleSave
✅ Lifetime Access  ✅ One-Time Payment  ✅ Over 3,900 sales
You'll get 9 Indicators - Trend Exhaustion, Price vs. Whale Money Flow, Trend Dashboard, Buyers vs. Sellers, Pressure Gauge, MA Breakout, MTF Momentum, London Breakout, Forex Mockup
---
Profits Made With Indicators
---
💰"Just made $950 today!"

💰"I'm up $4,300 USD just this week"

💰"I made 2,100 in 3 days!"

💰"My first 3 trades were +$500, +$5200, +$4300" (with indicators!)

💰"I made $3,200 in the last 3 days bro"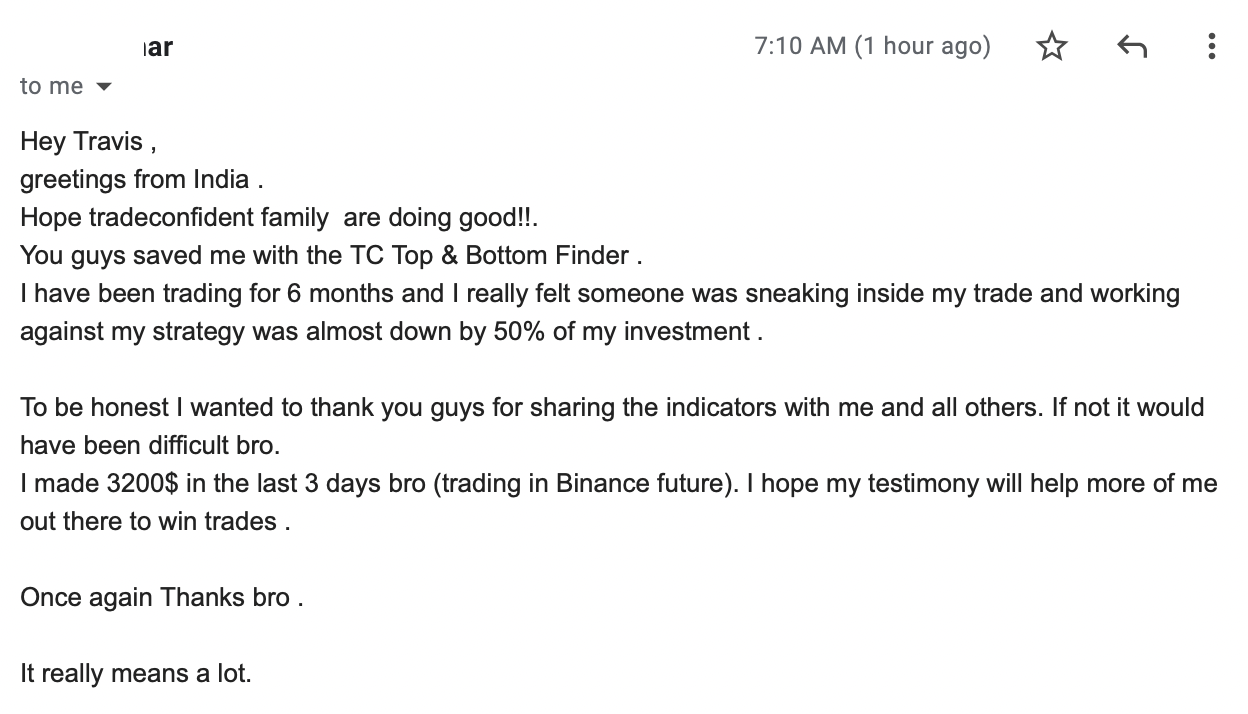 💰"I made back the cost...within 2 hours of purchase"

💰"I'm up 5K in the past two weeks"

💰"$2k in a matter of a few hours"

💰"Get it. NOW"

💰"Made a little over $500. Then another $400 the next day."

---
GOOD NEWS: You DO NOT need a paid TradingView membership for these indicators to work. You can load up to three indicators on any chart with a free TradingView account.
Email us at betradeconfident@gmail.com if you have any questions before or after your purchase :)