Q: What are the Membership Options?
We offer a Basic and Full Access membership. We've provided a screenshot below of what's included with each. Simply click the 'Subscribe' button at the top right of this page, or click the 'Account' icon at the top right and then click 'Change' under your account to change your membership level.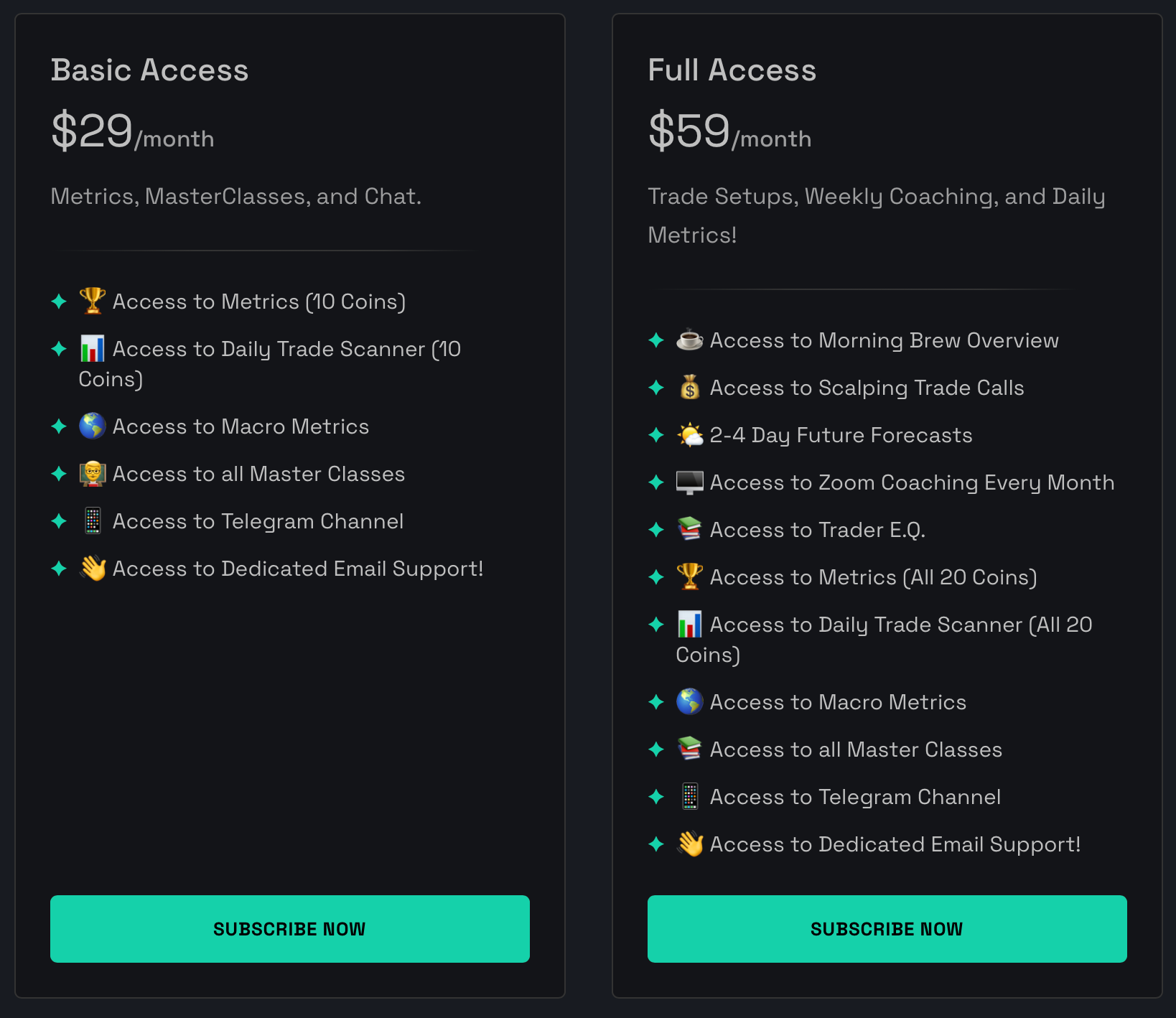 Q: What are Crypto Metrics?
Every day at 8am PT each of our coin metrics, including Emotional Index, Long vs. Short Trades, Whale Smart Money, Breakout Detector, Major Support & Resistance Levels, and Daily Trade Scanner, update to give you crucial market insight. Take a look at a preview here!
Q: What's included with Morning Brew Overview?
A: Every morning, Monday through Friday, we post a full market overview for our Full Access members to set you up for success that day! This includes best-performing coin, worst-performing coin, critical news, coin breakout alerts, and Buy, Strong Buy, Sell, or Strong Sell signals that have gone off on the daily candle for our top 20 cryptos. Take a look at a preview here!
Q: What is Future Forecast
During the week we will bring you in-depth market predictions on where we think crypto will head in the next 3 to 4 days as well as provide personal opinions on trade setups! You can access each analysis here.
Q: What coins Metrics come with Basic Access?
The Basic Access membership gives you access to our top 10 coins. This includes Bitcoin, Ethereum, Cardano, Algorand, ApeCoin, Cosmos, Avalanche, Dogecoin, Polkadot, and EOS.

Our Full Access membership includes the coins listed above as well as Chainlink, Litecoin, Decentraland, Polygon, Sandbox, Shiba Inu, Solana, Uniswap, Vechain, and Ripple.
Q: What's the Daily Trade Scanner?
A: This is awesome!! Each of our 20 cryptos comes with its very own Daily Trade Scanner that updates every morning at 8am PST. This scanner will show you if there is a Buy, Strong Buy, Sell, or Strong Sell signal on the daily timeframe, and also provide entry, take profit, and buy limits prices for risk-managed trades. Take a look at a preview here!
Q: What's included with Scalping Trade Calls?
A: Whenever we see a quality scalping trade call we will call it out via telegram and send an email to all our followers. We will also keep track of our win rate here.
Q: What's included with the Macro Metrics?
A: Macro Metrics is a suite of dominance and volume metrics that are comprised of the BTC and ETH Dominance, Total Market Cap, and USDC to USDT Inflow & Outflow. You can access these at https://www.tradeconfident.io/macro-metrics/
Q: What's included with the MasterClasses?
A: As a member, you get access to all of our MasterClasses on-demand 24/7. These MasterClasses will accelerate your trading skills and knowledge to the pro level.
Q: What's included with Monthly Inner Circle Zoom calls?
A: Every month we get all of our Full Access members together on a zoom call to talk about the markets and have an open Q&A session at https://www.tradeconfident.io/inner-circle/
Q: What's included with Telegram Access?
A: Our telegram channel is open to the public but only those with a Full Access membership can access our Trade Setups, Morning Brew Overview, and Zoom Coaching Calls (basically, everything that's important)!
Q: Do you offer refunds?
A: We do not offer refunds for the monthly membership, but you are free to cancel at any time to avoid being charged the following month. If you are not 100% sure of what you are receiving with your membership, please contact us at betradeconfident@gmail.com before making any purchase.
Q: Can I cancel my paid membership at any time?
A: Yes! You may cancel your monthly membership any time you would like to avoid being charged the following month by clicking the account icon at the top right right-hand corner of the website after you log in, then click 'Change' under the 'Plan' tab, and then click 'Cancel Subscription'.
Q: How will I be billed?
A: Your membership will auto-renew every month so you don't miss out on coverage. For example, if you purchase your membership on Jan 15, your next payment will be on Feb 15th.
Q: Will you increase my membership fee if prices go up?
A: Nope! :) If we raise our prices above $59/month we will grandfather you in! If you happen to unsubscribe, and the price goes up, you will need to pay the new membership price at that time.
Q: Anything I need to know?
A: Yes. The material on this website IS NOT financial advice. By subscribing you agree to our website's Disclaimer, and Terms and Conditions.
Q: If I have further questions can someone help me?
A: Absolutely! We would ❤️ to help. Email us at betradeconfident@gmail.com and we will assist you with any questions you have 😊