🎉
Updated Win Rate: 124 Wins / 1 Loss ... Join us for our next wins!
Access Each Coin's Metrics and Trade Setups 7 days a week!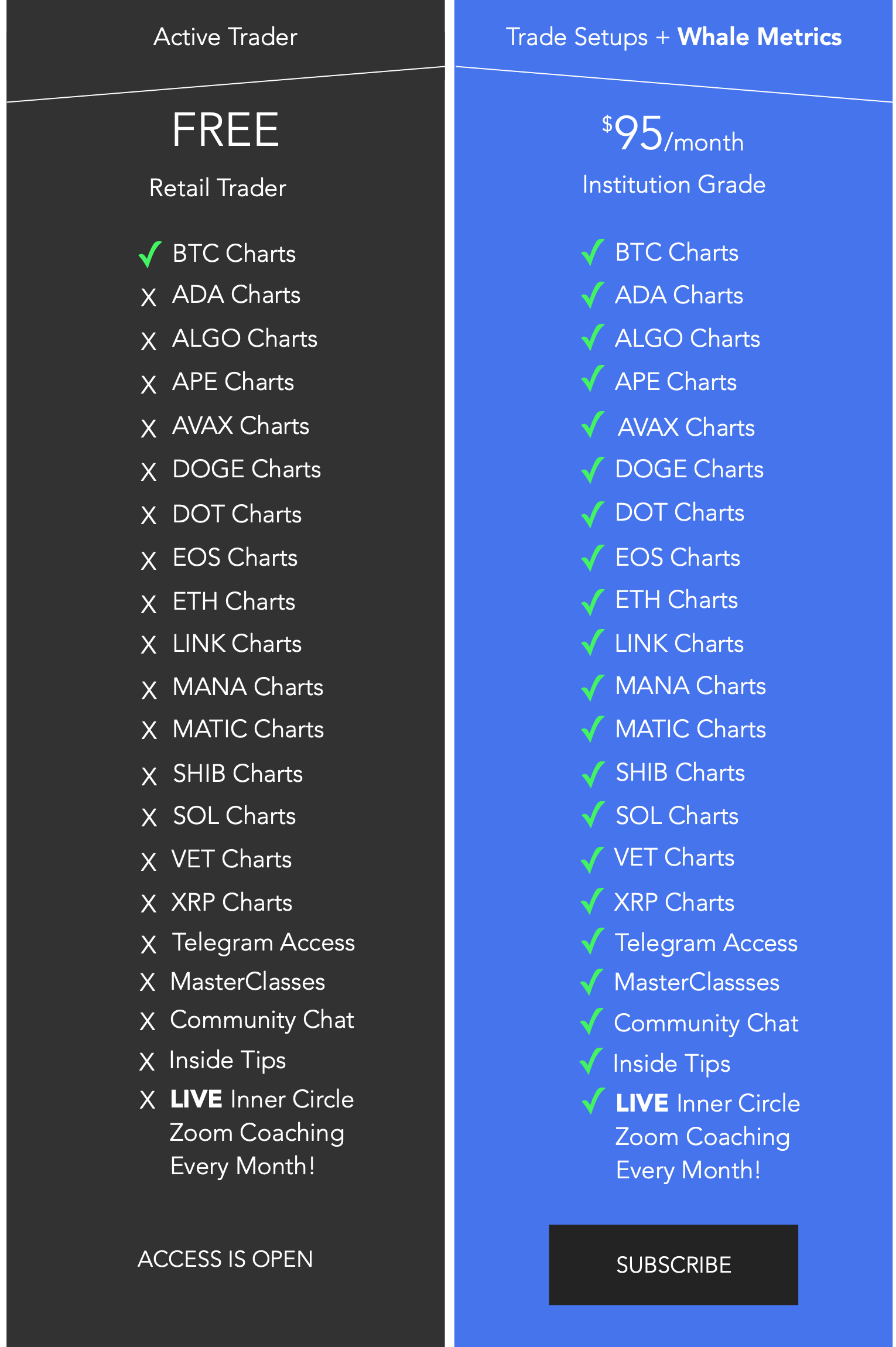 FAQ
Q: What are Inside Tips?  
A: It's like having access to my secret trading notebook. If I've learned something really valuable, or see good opportunities for trade setups, I'll post it here.
Q: What is Inner Circle Access?  
A: Part of the awesome perks of becoming a member of our community is unlimited access to our Crypto Inner Circle Acceleration group. This will allow you access to our live monthly zoom coaching call that will consist of in-depth crypto training, open Q&A sessions, reviewing of live trade, top coin picks, and much more.
Q: What are MasterClass Videos?
A: As a member, you get access to all of our MasterClasses on-demand 24/7. These MasterClasses will accelerate your trading skills and knowledge to the pro level. I use the same principles taught in these MasterClasses to coach million, and billion-dollar hedge funds, and to help people who are brand new to trading find the confidence they need to become successful traders.
Q: What Charts are included with each coin?
A: You will get access to the following metrics for each coin: Emotional Index, Long vs. Short Trades, Long vs. Short Trade Risk, Whale and Institutional Smart Money, Support and Resistance Prices, Dollar Cost Average Buys, Exit Points and Death Cross for Bitcoin. You will also get access to the trade setup chart for that day as well. To get an example of what this looks like for each coin, take a look at the Bitcoin metrics here.
Q: Do you offer refunds?
A: We do not offer refunds for the monthly membership, but you are free to cancel at any time to avoid being charged the following month. If you are not 100% sure of what you are receiving with your membership, please contact me at betradeconfident@gmail.com before making any purchase. This is stated to avoid disputed charges.
Q: Can I cancel my paid membership at any time?
A: Yes! You may cancel your monthly membership any time you would like to avoid being charged the following month by clicking the blue account icon at the bottom right-hand corner of the website after you log in and then click 'Change' under the Plan tab, and then clicking 'Cancel Subscription'.
Q: What's included with Telegram Access?
A: Once you subscribe you will be able to view the telegram access page here. You will get immediate updates of YouTube video posts, trade exits, crucial market updates, deals, and customer profit testimonials.
Q: How will I be billed?  
A: Your membership will auto-renew every month so you don't miss out on coverage. For example, if you purchase your membership on Jan 15, your next payment will be Feb 15th.
Q: Will you increase my membership fee when prices go up?
A: Nope :) If you subscribe right now at $95/month, you will be grandfathered in if this price goes up. So if you subscribe right now at $95/month, you can keep that price for life, even if someday the membership goes up to $200/month. If you decide to unsubscribe, and then resubscribe, you'll just need to pay the current rate at that time.
Q: Anything I need to know?
A: Yes. The metrics and trade calls on this site are NOT financial advice. These are considered personal opinions and are intended for entertainment purposes only. Please consult a financial advisor first before trading.
Q: I have further questions can someone help me?
A: Absolutely! Email me at betradeconfident@gmail.com and I will assist you with any questions you have.
By signing up for a membership, you agree to all Terms and Conditions as well as Disclaimers found at the bottom of this page.