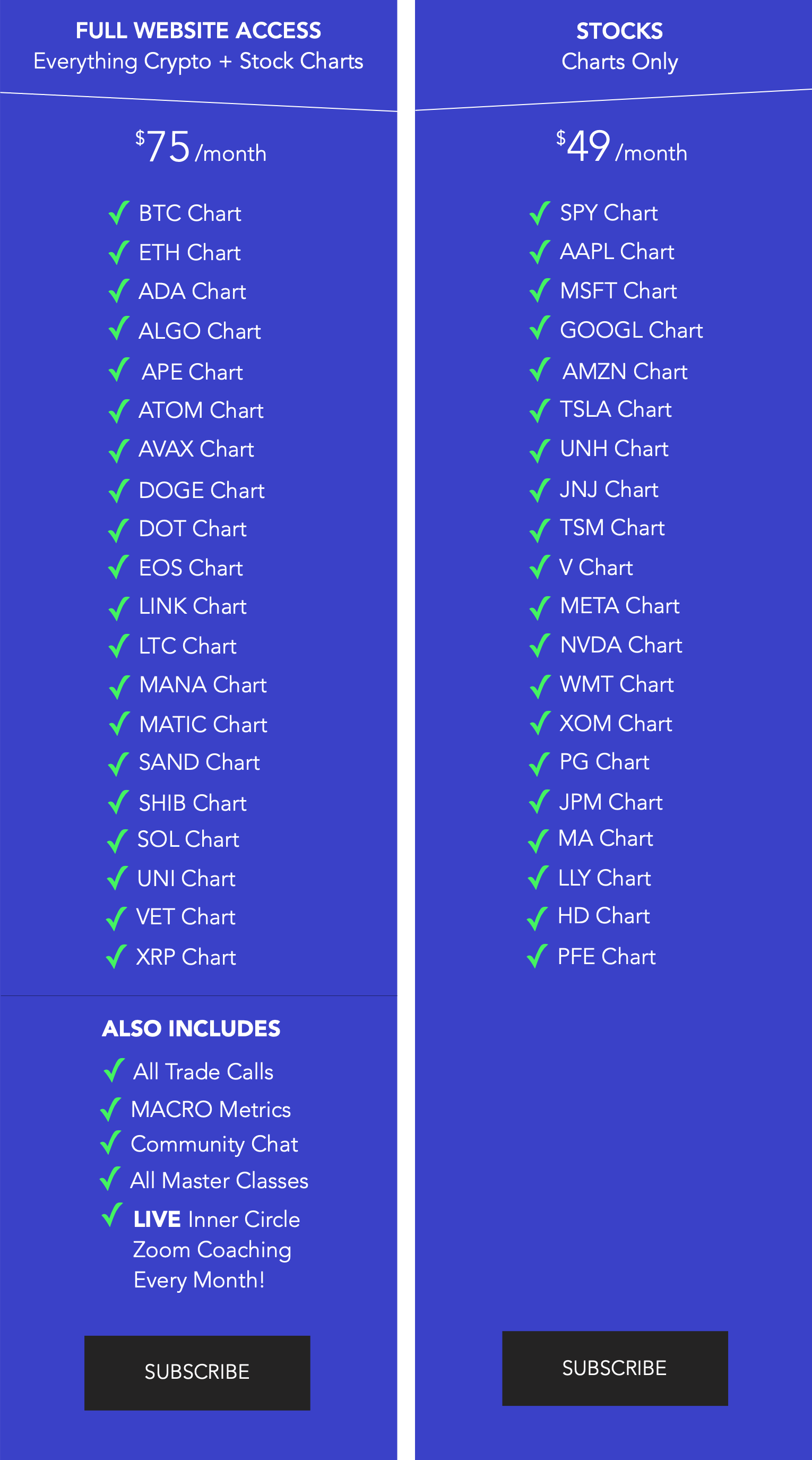 FAQ
Q: What are Crypto and Stock charts?  
Every day at 8am PST all of our Crypto and Stock charts update to show you the latest results from our flagship indicator, the Top & Bottom Finder. Here's an example of what this looks like on Cardano.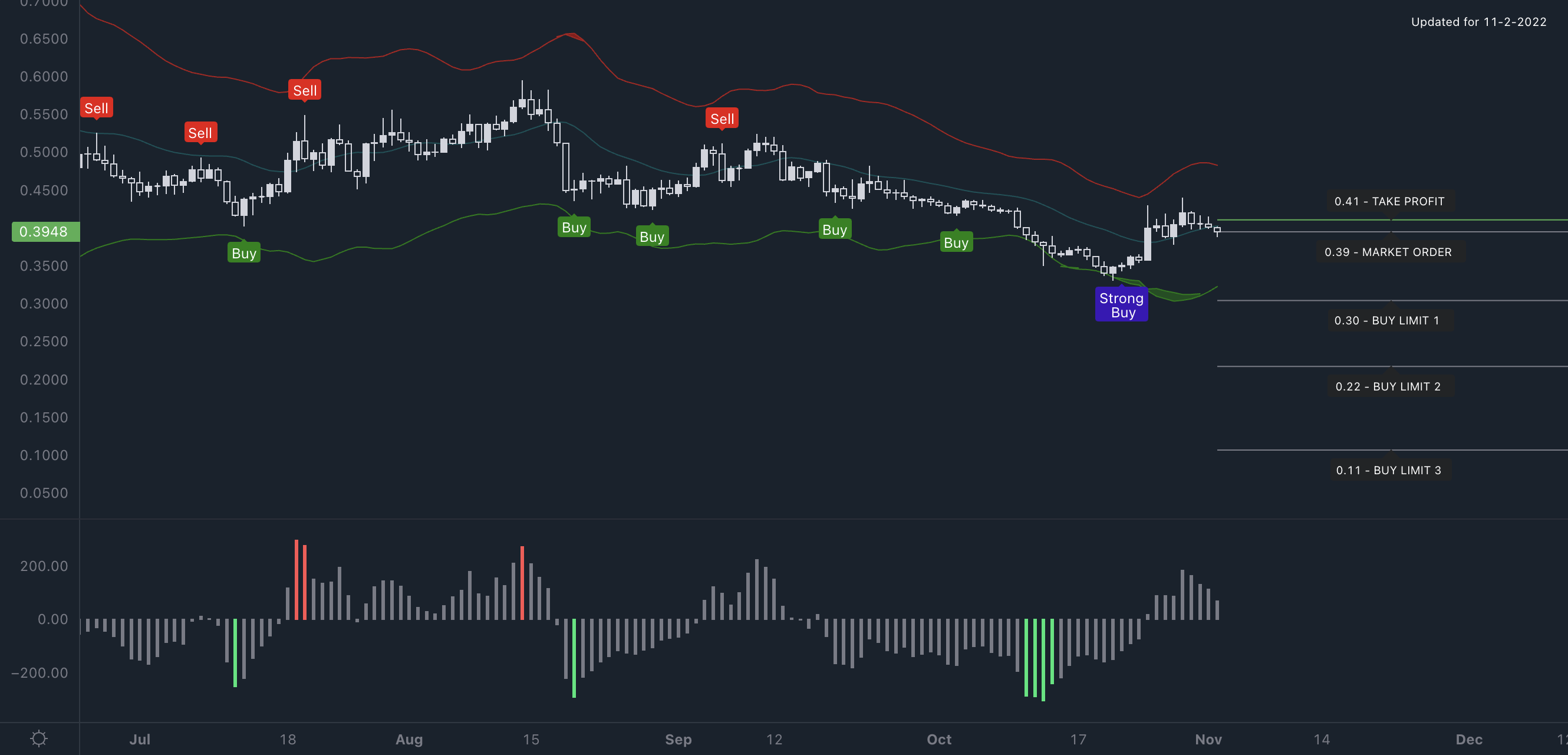 Q: What's included with Trade Calls?  
A: Every time we see a quality crypto scalping trade setup or a great time to buy and hold or sell some of our portfolio, we will call it out to all of our members. Take a look at our performance record at https://bit.ly/scalpingperformance
Q: What's included with the MACRO Metrics?
A: Macro Metrics is a suite of on-chain, volume, and trader sentiment metrics that are comprised of the BTC Emotional Index, BTC Long vs. Short Trades, ETH Long vs. Short Trades, BTC and ETH Dominance, BTC Whale & Institutional Smart Money, Total Market Cap, and USDC and USDT Inflow & Outflow metric. You can access these at https://www.tradeconfident.io/macro-metrics/
Q: What's included in the Community Chat?
A: The community chat is for crypto users only at the moment. It's a place where you can talk with others about trade setups, news, and how to use our metrics and indicators.
Q: What's included with the MasterClasses?
A: As a member, you get access to all of our MasterClasses on-demand 24/7. These MasterClasses will accelerate your trading skills and knowledge to the pro level. I use the same principles taught in these MasterClasses to coach individuals part million, and billion-dollar hedge funds, and to help people who are brand new to trading find the confidence they need to become successful traders.
Q: What's included with the Inner Circle Zoom calls?  
A: Every month we get all of of our members together on a zoom call to talk about the markets, do training, and have an open Q&A session. You can attend as many inner circle zoom hangouts as you want at: https://www.tradeconfident.io/inner-circle/
Q: What's included with Telegram Access?
A: Our telegram channel is open to the public but only those with a membership can access our Trade Calls, Inside Tips, Zoom Coaching Calls, Money Making Monday, Future Forecast Friday series, and Breaking News updates. (Basically, everything that's important)
Q: What's included with the Stock membership?  
A: You will get full access to all stock metrics. If you would like to also access the crypto metrics, inside tips, telegram channel, masterclasses, and more, feel free to sign up for a Full Website Access membership.
Q: Do you offer refunds?
A: We do not offer refunds for the monthly membership, but you are free to cancel at any time to avoid being charged the following month. If you are not 100% sure of what you are receiving with your membership, please contact us at betradeconfident@gmail.com before making any purchase. This is stated to avoid disputed charges.
Q: Can I cancel my paid membership at any time?
A: Yes! You may cancel your monthly membership any time you would like to avoid being charged the following month by clicking the blue account icon at the bottom right-hand corner of the website after you log in, and then click 'Change' under the Plan tab, and then click 'Cancel Subscription'.  
Q: How will I be billed?  
A: Your membership will auto-renew every month so you don't miss out on coverage. For example, if you purchase your membership on Jan 15, your next payment will be Feb 15th. Both Crypto and Stock membership will be kept seperate in your account so you can choose to cancel one and leave the other if you choose so.
Q: Will you increase my membership fee if prices go up?
A: Nope :) If we ever raise our prices above $75 a month we will grandfather you in! If you happen to unsubscribe and the prices go up, you will need to pay the new membership price at that time.
Q: Anything I need to know?
A: Yes. The material on this website IS NOT financial advice. I am not a financial advisor. Anything stated on this website, our telegram, or social media accounts are my personal opinions. This website is meant for entertainment purposes only. If you do happen to use the information on this site to place a trade, you do so fully at your own risk. Consult your own licensed financial advisor before placing any trades. Trading crypto, stocks, and forex is extremely risky. Always do your own research and consult a financial advisor before investing.
Q: If I have further questions can someone help me?
A: Absolutely! Email us at betradeconfident@gmail.com and we will assist you with any questions you have.